Welcome to North Rhinns Camping
We welcome campers to our small rural camping site, which we opened in 2012. There are 10 different sized pitches for tents, 3 also have hard standings for camper vans.
There is one comfortable camping pod that sleeps 2 in comfort, (3 at a squeeze.) Seven electric hookups available for tents and campervans.
All the tent pitches are separated by bushes or trees or changes in ground level. Some of the pitches have open views across fields, and others are within our tree belt which gives shelter from the west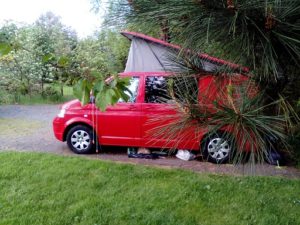 wind.
The woodland pitch for small to medium
tents is completely secluded. Other small pitches look out onto fields.
We are 6 miles north west of Stranraer, and 2 miles from Leswalt village, with its local store. After many years of camping ourselves, we have made our camping site into the type of place we would like to stay.
Our modern facilities block provides toilets, large level access shower, and washing up sinks, all with free hot water. Small fridge freezer and electric sockets for mobile phone charging/hair dryer. All water taps have drinking water. There is a campfire hearth for each tent pitch.
Cars are parked in 2 parking areas, leaving grass pitches car-free and safe. A wheelbarrow is available to transport your gear to your tent pitch
We welcome individuals, couples, groups, families, single sex groups. We have limited capacity for extra large
family tents, 3 only.
We do not cram tents in together, and each pitch has its own area. Most pitches have a bench seat or picnic table. There is a small shelter for wet weather cooking. Since we are a small camping site and do not accept caravans or large motorhomes, we do not provide disposal for chemical toilets.
Advance booking is advisable for groups and very large family tents.
We welcome telephone inquiries all year, on 01776 853630 or 07809 649244
*USE THE CALENDAR ABOVE TO CHECK AVAILABLE PITCHES FOR YOUR PREFERRED DATES
You can make an instant booking with the option of secure payment online.
Or send us a completed "book stay" form, we usually respond within a couple of hours.
Or contact us directly on email enquiries@northrhinnscamping.co.uk
Thanks, Rob and Kath Googe