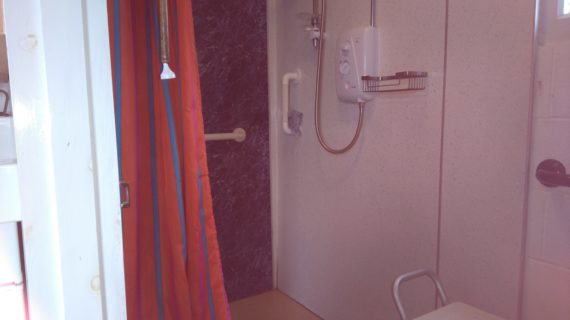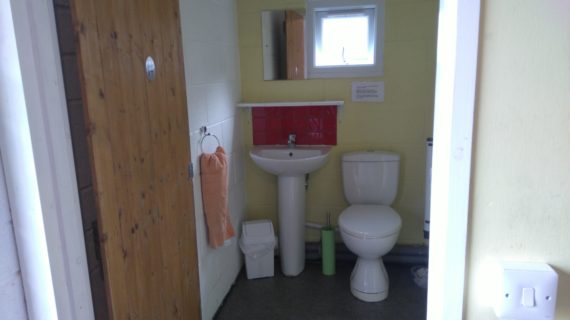 Access information for campers with disabilities.
Entrance Gate. This is a metal farm gate with a double action catch.
There are camper van and tent pitches within 20 metres of the facilities building, which is 5 metres inside the entrance gate. These pitches have electric hookups and level paths of compacted gravel. All tent pitches are grass.
Facilities
The facilities building has a half inch high step from the paths. Double doors each has clear opening 800 mm (31"). One door is kept open at all times except in extreme weather conditions.
Toilets and washbasins. Both toilets have a seat height of 470mm (19") and have an ensuite washbasin. Both washbasins have lever mixer taps.
Cubicle One's door opens 800mm (31" clear), has wheelchair turning space inside, and space for sideways transfer beside the toilet, with a full set of grabrails for the toilet and washbasin. The washbasin and wall mirror are positioned for a wheelchair user .
Cubicle Two is spacious but without grabrails.
Shower cubicle
There is one spacious shower room, with a "wet floor shower" area. The door has a clear opening of 790mm, and the cubicle is 1240mm (48") wide. There are 2 wall fixed grabrails in the shower area, and a height adjustable shower stool. A shower curtain divides the wet shower area from the dry area, and there is space for a wheelchair inside the shower room. There are hooks and shelves for clothing and toiletries. The electric shower is positioned with the controls within reach of a seated user at 1220mm above the floor. A wheelchair user would need to reverse their wheelchair out of the shower room, if unable to walk a few steps into the shower room.
Washing up Sinks
These are in the communal entrance to the building. Both are set into a worktop at 950mm above the floor, and have lever taps. There is a space under with shelving, and a small under-counter fridge-freezer for shared use.
Light switches, electric sockets and shaver socket, within the building. All are set at 1000mm above the floor. The outside light and the washing up areas light are worked off movement sensors, and have timers.
Heating
The building has some tube heaters beside the toilets, and in the shower room. These can be switched on if necessary in cold weather, but are not generally used in the summer.
If you do have special requirements for your stay, please make us aware when you are booking for camping, so we can make sure we can meet your needs.