Great Campsite
This is a really lovely campsite where we are made to feel most welcome. Ray was engaging and informative. I would highly recommend this site especially to anyone heading on the ferry over to Ireland. 5 Stars.
Mark Spall
Wow
Absolutely amazing campsite. Very enchanting and relaxing. All pitches are of a good size. Shower and toilet block very well kept. Washing up facilities great plenty of hot water, kettle and fridge to use if needed. Fantastic welcome from the owners Ray and Jane. Arrived as guests leaving as friends.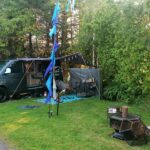 Gary Gamblin
Magical
Magical and idyllic, the pod is so well equipped. Loved it.
Lorna and George
Peaceful
Wonderfully peaceful and well thought out site with individual pitches. it's clearly been designed by real campers. Local walks guide much appreciated. Facilites well provided and clean. Welcoming friendly and helpful people, will reccommend to others and hope to return.
julie M
Pitch Perfect
Thought you only got a perfect pitch in music! Our pitch was perfect for our big tent and my 2 wee girls. Perfect balance on the site between needs and wants. Thanks, we hope to return.
Mick McMillan
Lovely
Lovely calm and relaxing place. We will be back. Best wishes.
Lyn and Jay and Molly the Labrador